World Beneath World Debuts Music Video On FSW's High Octane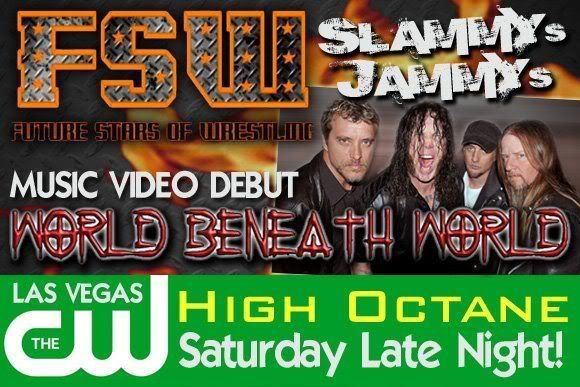 Website: http://www.FutureStarsofWrestling.com
LAS VEGAS – Southern rockers World Beneath World come face to face with the Future Stars of Wrestling this Saturday night on The CW. The broadcast television debut of the new music video "Hopeful Damned" from World Beneath World, will make its debut on this weekend's FSW High Octane.

FSW is the fastest growing new wrestling event featuring wrestlers from around the United States. FSW High Octane is filmed at the Silver Nugget Casino, as well as the FSW Arena in Las Vegas Nevada.

The rock group World Beneath World recently released their new album "Nein" which has featured several national radio singles such as "The New American Way" and "Sophisticate". The new "Hopeful Damned" music video features live footage from the group's recent tour, and was produced by Spencer Poole.

FSW High Octane will air this Saturday night from Las Vegas on The CW, which is carried on Cable and Direct TV. For more information visit: FutureStarsofWrestling.com

"Nein" is available for download on iTunes, Amazon.com, Verizon and hundreds of online and mobile sites worldwide via DSN Music.





MusicDish*China Song Blast
Promote Your Music Single In China
| | | |
| --- | --- | --- |
| | News Headlines | |

Get your music news covered...
Have your press release written
by the pros at Mi2N
| | | |
| --- | --- | --- |
| | Articles | |