LiLi Roquelin, Whose Song Is Featured On Lifetime's TV Show "Dance Moms", Will Perform Live In NYC October 27th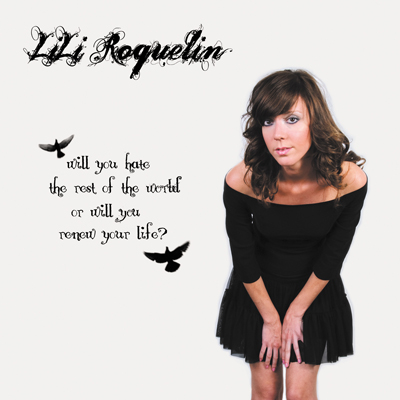 Website: http://www.liliroquelin.com/
Music: http://www.liliroquelin.com/mp3/liliroquelin-renew-teaser.mp3
Singer-songwriter LiLi Roquelin, as featured this month on the National TV Show "Dance Moms" on Lifetime, is playing at Gizzi's Music Cafe in the West Village in NYC October 27th

Lifetime's hottest new TV Show is "Dance Moms" and their production team picked LiLi Roquelin song "Renew" for a dark contemporary dance routine entitled "Sinful" (season 1, episode 9, first air-date 09/07/11).
This episode reached the highest viewers count of the season with a peak of 1.7 million. The song quickly became viral on Youtube and here are Ms. Roquelin comments: "I was in shock, so grateful, it was a wonderful surprise, artistically I had been wishing to have an emotional and contemporary dance choreographed to my music and this was more than I ever dreamed of, from the modern lyrical style movements to the outfits it was astounding".

LiLi Roquelin is currently working on her 3rd solo release and is giving a treat to New Yorkers with a show at Gizzi's Music Cafe, 16 West 8th Street, in the West Village on Thursday October 27th at 7pm. She will be premiering some of her new songs from her upcoming album.

All her music is available on iTunes, Amazon and other retailers. Visit http://www.liliroquelin.com for list of awards, lyrics, music videos and more info.

A must hear... and see.

Recent press quotes:

"Lili Roquelin is a forward thinking artist possessing scary talent and an ambitious eye on the future." (The Aquarian/East Coast Rocker)

"Her talents as a singer-songwriter and a multi-instrumental musician are certainly more than enough to mark her as a true talent in the music world." (Los Angeles Music Examiner)

Live Performance Review (Synch Ladies on the move): "LiLi Roquelin has a sincere, warm and loving spirit that is so rare these days. Artists like these are encouraging to see"

Live Performance Article (The Kent Stater): "A room full of eyes blink toward her — consumed. "A nightmare I had," invites you in, bathing you in its melody, on the low end of the spectrum, giving the impression of a half-slumber waking."

Video of TV show dance routine featuring LiLi Roquelin "Renew"






MusicDish*China Song Blast
Promote Your Music Single In China
| | | |
| --- | --- | --- |
| | News Headlines | |

Get your music news covered...
Have your press release written
by the pros at Mi2N
| | | |
| --- | --- | --- |
| | Articles | |