The J.O.B.'s 'Messenger' Rises To AC Top 40 Chart In US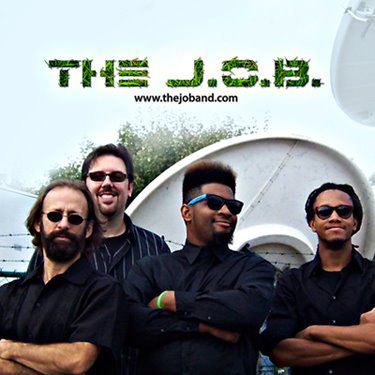 Website: http://www.thejoband.com/
Music: http://thejoband.angelfire.com/Messener.mp3

RICHMOND, VA (USA) - The original rock music band, The J.O.B., has appeared in the national spotlight this week with their compelling single 'Messenger' emerging at #35 on the Adult Contemporary Top 40 Chart, according to the Arbitron Ratings and reported by Friday Morning Quarterback (FMQB), the premiere source for music and radio industry professionals.

"Our song 'Messenger' addresses the deep level of connection we all share," said Jim O'Ferrell, songwriter and frontman for the band. "We have had two songs appear on national charts before, but this is our first breakthrough to the Top 40 level," he said. Jim O'Ferrell, on vocals and rhythm guitar, is joined by Jason Crawford on lead guitar, Antonio James Jr on drums, and Justin Poroszok on the bass guitar. The band is based from O'Ferrell's century old house in the historic neighborhood of Church Hill in Richmond, Virginia.

O'Ferrell draws a great deal of his songwriting inspiration from his wartime experience as an Infantry soldier during multiple deployments to the War in Iraq. "Our songs have a depth of lyrics and musicianship, a genuiness that people can
connect to," said O'Ferrell. The J.O.B.'s music has been categorized as Modern Rock, Americana Rock, Art Rock, and other styles. "We play what we feel. We've never tried to fit into any particular genre," O'Ferrell said. "Writers and reviewers
have scratched their heads trying to label us with a genre before, so I just go with 'rock' and leave it at that," he said.

The J.O.B. is a total 'do it yourself' project with no outside management or major label support. "Our recording and distribution is under the Free Fall Records LLC indie label, but that is our own in-house entity," O'Ferrell explained. "The band members of The J.O.B. are the staff of Free Fall Records. Having our own indie label identity helps us move around in music industry circles," he said.

When asked if their rise to the national charts is unique, O'Ferrell answered, "Yes, it is unusual for a band like us to make it to a national Top 40 chart surrounded by artists like Coldplay, Katy Perry, Rihanna, Nickelback, and so many others
with major label support." He continued, "I think it speaks well for our songs, our creative process, and our commitment to get to this point. We've also made some great friends in recording and production who have contributed immensely."

"We're just getting started," added O'Ferrell. "We'll be back in the studio in two weeks to begin working on our next project, and we hope 'Messenger' continues to climb." The single 'Messenger' is currently heard on radio stations all over the United States, primarily in secondary radio markets and on college radio. More broadcasters are spinning the song every
week. To learn more about this inspiring original rock group, go to their official website at www.thejoband.com. They are also on Facebook at www.facebook.com/thejoband.




MusicDish*China Song Blast
Promote Your Music Single In China
| | | |
| --- | --- | --- |
| | News Headlines | |

Get your music news covered...
Have your press release written
by the pros at Mi2N
| | | |
| --- | --- | --- |
| | Articles | |