Darkling - The New Remix Album From Synoiz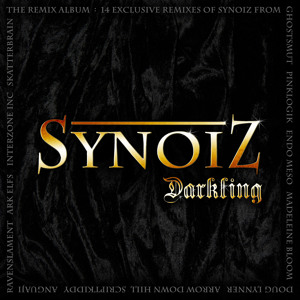 Website:
http://www.darkling.co.uk
The new remix album from Synoiz
Following the success of his debut album "Ambients" and its string of promotional singles comes Darkling the new remix LP from north east England electronic instrumental artist Synoiz.
13 different artists spanning a range of genres and styles from around the world have contributed their exclusive remixes of Synoiz tracks to be included on this new compilation. From upbeat reworkings of "Darkling" and "Cooper" to a lavish film score organic reinterpretation of album track "Of Rolling Hills" from Madeleine Bloom, whom critics are calling Germany's answer to Imogen Heap, Darkling flows from dance to pop to trip hop and at points flirting with dubstep, industrial and glitch.
Darkling will be released for digital download on November 5th 2012.
Whether you're an existing fan of the dark world of Synoiz or a new listener looking for something different, Darkling has something for everyone from the wellspring of Synoiz's ever expanding discography.
Tracklisting
Darkling (Synoizian Dance Edit)
Darkling (Pinklogik Remix)
From You (Lunar Re:Mix by Anguaji)
Of Rolling Hills (Madeleine Bloom's Reinterpretation)
Darkling (SKatterBrain Remix)
The Esoteric Order Of Dagon (Scriptkiddy's Wrong St Ives Mix)
Darkling (Doug Lynner's Los Gatos Mix)
The Enfield Poltergeist (ark Elfs Brain Haemorrhage Mix)
Darkling (Interzone Inc's Reality Dysfunction Mix)
Darkling (Endo Meso Pick N Mix)
Darkling (Ravenslament Wake Up #13 Mix)
Cooper (Old Dog New Tricks Mix)
Ever Emptiness (Arrow Down Hill Defiance Remix)
Darkling (Ghostsmut's Art Pulpitation Mix)
Darkling (Album Version)
---
Release date: 05th November 2012
Contact: press@synoiz.com
Website: www.darkling.co.uk
If this release is not provided as part of a digital press pack, you can download press images and further information from www.synoiz.com/media/press/darkling