Monte Pittman, Guitarist For Madonna, Receives Career Achievement Rock Guitarist Award At The 6th Annual Hollywood F.A.M.E. Awards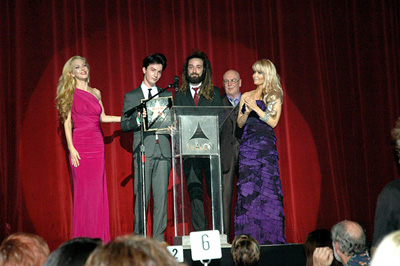 Website: http://www.montepittman.com/
Monte Pittman was honored with the Career Achievement Rock Guitarist Award for both his impressive solo work on two albums, as well as his guitar work with Madonna, Prong and Adam Lambert at the 6th Annual Hollywood F.A.M.E. Awards at the historic Avalon Theater in Hollywood.

Al Bowman, the event producer said, "We all know who the biggest superstars in the world are. My question is what would they be without the super-sidemen to make them sound so good? Monte Pittman is one of those individuals who contributes to and raises the overall performance level of Madonna's shows, or any other's show he performs in for that matter. Not only is Monte a guitar master, he is a good and generous man who contributes in abundance to the music community. Monte's recognition with this award is deserved."

Award recipient Stevie Hawkins, performed double duty at the 22nd Annual Los Angeles Music Awards show by acting as a presenter for the 6th Annual Hollywood F.A.M.E. awards, conducting Monte Pittman's award presentation. According to Al Bowman, "Stevie was both gracious and flawless in his delivery of the award for Monte."

During the presentation of the award, a three-minute video bio reel about Mr. Pittman's successful career was screened for the audience, followed by a remote video stream of Monte thanking everyone for the honor of the award. Due to Mr. Pittman being on tour with Madonna and unable to attend the event, Max Whipple and Kane Ritchotte who are members of Monte's own band accepted the award on his behalf. (L-R in the photo above: Actress Dustin Quick, Kane Ritchotte, Max Whipple, Stevie Hawkins and TV personality Tamara Henry).

Monte Pittman has played on every live Madonna tour starting with her 2001 Drowned World Tour, to sharing writing credits on songs like "Easy Ride," "Hey You" and "It's So Cool" from Madonna's 2009 "Celebration" album.

Monte has also played guitar and bass for the industrial rock band Prong. He is credited with co-writing songs on Scorpio Rising from 2003 and co-writing/co-producing their 2007 album, Power of the Damager, to which he also added backing vocals and bass. Monte has also been the lead guitarist and music director for Adam Lambert's live band, and recently toured on the Glam Nation Tour. His rock influence is evident in Lambert's more recent live performances. Fingers fly on the fret board during electric solos, while his acoustic skills are showcased in the stripped-down arrangements of Adam's songs.

In November 2009, Monte released his debut solo album, The Deepest Dark, which features 11 acoustic songs. Almost a year after its release, a special bonus version of The Deepest Dark was released and immediately reached the No. 1 spot on the Best-Selling Acoustic Albums list on CD- Baby.com. It was also No. 9 in the Top 10 Best-Selling CDs for the autumn of 2010.

He also recently released his second album, Pain, Love & Destiny, which in its first week made it to No. 1 Rock Album, No. 1 Pop Album, and made it onto the Top 10 Albums chart. In addition, it cracked iTunes' Top 200 within its first week, making it the only album by an independent artist to have done so.

This year, Jarrell Guitars honored Mr. Pittman with his very own signature "Monte Pittman MPS Series" guitar. Monte also performed with his new signature guitar at the 2012 Super Bowl alongside Madonna. As well as being honored with a Career Achievement Award from the Hollywood F.A.M.E. Awards, Guitar Planet has inducted his new signature Jarrell guitar into its Hall of Fame, along with being up for Guitar Planet's Guitar of the Year Award.

Monte Pittman is currently performing on Madonna's 2012 MDNA World Tour.





MusicDish*China Song Blast
Promote Your Music Single In China
| | | |
| --- | --- | --- |
| | News Headlines | |

Get your music news covered...
Have your press release written
by the pros at Mi2N
| | | |
| --- | --- | --- |
| | Articles | |