Tru-B-Dor, Formed By Alan Niven Former Manager Of Great White And Guns N' Roses And His Partner Heather Vincent-Niven To Work With Michael Brandvold Marketing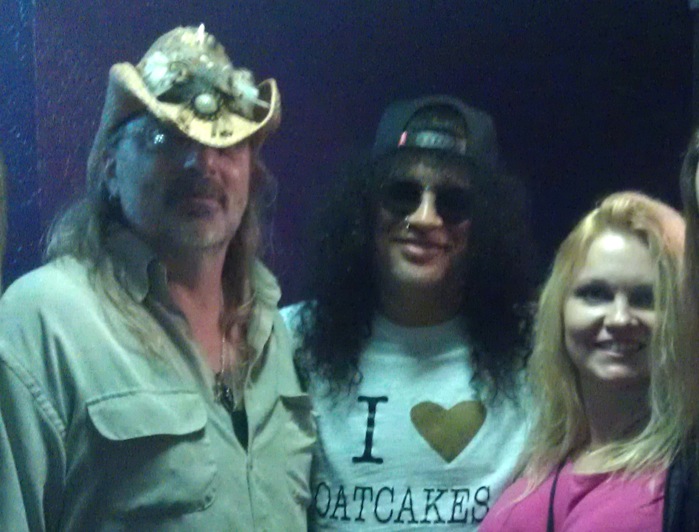 Website: http://www.MichaelBrandvold.com
Michael Brandvold Marketing announces their latest client Tru-B-Dor, formed by Alan Niven former manager of Great White and Guns N' Roses and his partner Heather Vincent-Niven, producer of Storm of Perception. Michael Brandvold Marketing will be working with Tru-B-Dor's clients Chris Buck & The Big Horns and Storm of Perception.

Michael Brandvold said, "Alan has been a special guest on my talk show Dropping The Needle a few times talking about the business behind Guns N' Roses and we just hit it off. We started talking about the acts he is working with now, Chris Buck & The Big Horns and Storm of Perception, and it just seemed like the next logical step to help out. Heather Vincent-Niven comments, "We want to embrace the DIY movement with our bands and Michael really has a grasp on marketing bands online and creating a digital content strategy that connects with fans."

Chris Buck & The Big Horns and Storm of Perception each recently released new albums and both are looking to discover more fans and deepen their connection with their fans.

About Tru-B-Dor and Alan Niven
Tru-B-Dor was formed formed by Alan and Heather Vincent-Niven to support recording artists who still believe in the album listening experience and who form audio statements to conform to that medium.

The label is non genre specific, being driven exclusively by talent. Aiming to present tomorrow's music today, [i.e. music that stands the test of time], it is not intended for the mere ephemeral entertainer.

Heather Vincent-Niven is a Fine Artist. She has spent her life in The Arts, theatre and music. Her musical roots run deep into the mountains of West Virginia, and the traditions of her Bluegrass musician family.

Alan Niven has spent most of his life recording, composing for, or managing musical entities. His past associations include Virgin Records, Enigma Records, Motley Crue, Berlin, Dokken, Great White, Michael Thompson [MTB], The Brewster Brothers and The Angels [Australia], Havana Black [Finland], Clarence Clemons, Izzy Stradlin …. and Guns n' Roses.

About Chris Buck & The Big Horns
Chris Buck is a young Welsh guitar player who has already drawn some remarkable comparisons to Clapton, Slash and Stevie Ray Vaughn …. Slash himself has invited Chris to play on his stage.

"Postcards From Capricorn", Buck's debut, is an ad hoc recording made in Arizona with Jimmy Mack [b]; Michael Thompson [d]; and featuring Tony Montana on vocals.

Again the approach is analog in consciousness, and has a 'live' presence. The record represents some of the best blues rock guitar playing you'll hear this year. If you're into BCC, Free, or the artists previously mentioned, then you'll not be disappointed.

About Storm of Perception
Storm are based out of the High Desert of Arizona, where they craft their powerful and organic music. In an age of Pro Tooled records and triggered drums, Storm record their music by actually providing performances. Compared to many, and unlike none, Storm cannot be confined to any genre, but if you threw Queen and Metallica into a blender you'd come close to replicating Storm's sound.

The band is comprised of Brian Herring [v]; Dylan Doherty [g]; R.J. Felo [g]; Stevie Thunder Hollingsworth [d]; Mike Gim Lee [b] and Billy The Kid Fugate [k].

The band's debut record "Into The Sun" also comes with a bonus DVD – an introduction to the band and its home.

"First there was Black Sabbath. Then there was Guns n' Roses. Now theres Storm of Perception. Prepare to be blown away." - Mitch Lafon. P G A

About Michael Brandvold Marketing
Michael Brandvold is a freelance music imarketing consultant based in Northern California. Having launched Michael Brandvold Marketing to leverage his years of experience to provide digital strategy to large and small clients in the areas of online & social marketing as well as e-commerce and fan acquisition and retention.

Gene Simmons of KISS first tapped Michael's skills as a pioneering online marketing strategist to launch and manage all aspects of Kissonline.com's multi-million dollar enterprise, including their ground-breaking VIP ticket program.

Michael has also managed the online efforts for Russ Dwarf, Ron "Bumblefoot" Thal, Dream Theater, Bill Ortiz, Andy Gibson, Alexa Carter, Greg Kihn, Little Caeser, Motley Crüe, Rod Stewart, Madonna, Ozzy Osbourne, Madonna and Britney Spears to name only a few.

Michael's first ebook, KISS School of Marketing: 11 Lessons Learned While Working with KISS has over 4000 downloads. He is also the founder and cohost of the following podcasts; The Music Biz Weekly, Rock Star Branding, Dropping The Needle and Three Sides of the Coin. He cohosts and presents a monthly music marketing webinar and writes about his music marketing knowledge experience on his blog at Michael Brandvold Marketing.

Visit http://www.stormofperception.com/ for more information on Storm of Perception.

Visit http://www.chrisbuckguitar.com/ for more information on Chris Buck.

Visit http://www.MichaelBrandvold.com for more information on Michael Brandvold Marketing.




MusicDish*China Song Blast
Promote Your Music Single In China
| | | |
| --- | --- | --- |
| | News Headlines | |

Get your music news covered...
Have your press release written
by the pros at Mi2N
| | | |
| --- | --- | --- |
| | Articles | |