Scottish Band Ravensis Nevar Donate All Proceeds Of CD Release To Charity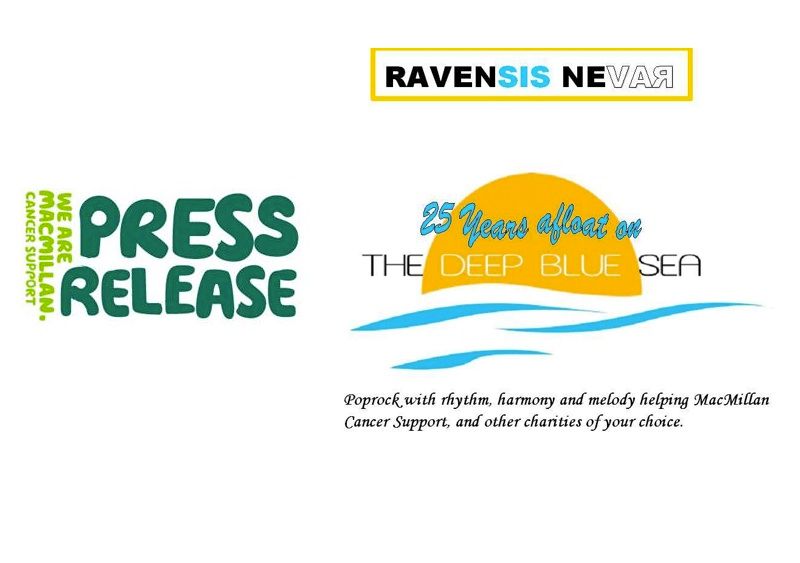 Website: http://www.ravensisnevar.com
Friendships are renewed as Ravensis Nevar come together to release Single 'Sun Beats Down' from their new album 25 Years Afloat on the Deep Blue Sea on May 21st 2013, with all profits going to Macmillan Cancer Support and the offer of entry into a Free Spanish holiday prize draw worth £1850 on purchase of the new CD.

25 Years Afloat on the Deep Blue Sea was 2 years and 3 months in the making, with 15 musicians participating in the project. Ravensis Nevar's lead singer and songwriter David McAlister cited personal tragedy within the group as the catalyst for the fundraising venture. A close friend of the band was diagnosed with terminal cancer and passed away to their deep sorrow. David said "music is a great distraction and can help no end with the grieving process.  We started playing music again together after 15 years to help a friend in need."  Old friendships were renewed as the band and musician friends gathered to lay down vocals and guitar parts.  

Speaking about the project taking on a life of its own David added, "We were all amazed at the wealth of talent contributing and surprised at the way the album was developing. As the project came to life, and we reflected on what we then realised had been a pretty inspirational journey, it seemed too good to waste, and so the decision was made that we would finish the job professionally by having it mastered and released, with all profits going to Macmillan Cancer Support."
 
Purchase of the album and subsequent donations can be made through Ravensis Nevar's website www.ravensisnevar.com. The aim is to reach a £50,000 donation target through sales of the CD and there is a tiered structure of donation where the public are invited to choose their option.  Option 1 ensures entry into a Spanish Holiday Prize Draw with free accommodation at the band's villa and flights up to £500 on offer.

Macmillan Cancer Support are working together with Ravensis Nevar on their groundbreaking charitable effort. Almost 97% of Macmillan's income is through generous public donations so they couldn't provide the services they do without support like this. 1 in 3 people will be diagnosed with cancer at some point in their lifetime and it will be the toughest fight many will face. Macmillan believes that nobody should face that fight alone and the support of Ravensis Nevar and everyone who buys the new CD will help Macmillan ensure that nobody does. The money raised will allow Macmillan to continue providing emotional, practical and financial support to people affected by cancer and their families throughout Scotland. 

25 Years Afloat on the Deep Blue Sea, containing an upbeat mix of pop rock harmony, will be available as a CD and digital download on iTunes, Amazon plus all other major download sites.





MusicDish*China Song Blast
Promote Your Music Single In China
| | | |
| --- | --- | --- |
| | News Headlines | |

Get your music news covered...
Have your press release written
by the pros at Mi2N
| | | |
| --- | --- | --- |
| | Articles | |