Wicked Deception Joins DSN Music's Metal Roster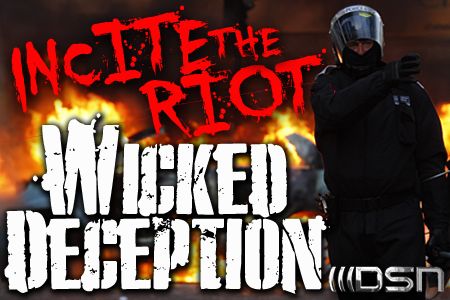 Website: http://www.dsnmusic.com
CHICAGO -- Another chapter in Chicago's hard rock and metal music scene is written as emerging headbangers Wicked Deception have announced a deal with DSN Music to distribute their first release "Incite the Riot" this November. The group which was founded in 2006, has risen to the ranks of popularity among the Midwest death and thrash metal community, recently performing with such acts as Six Feet Under, SFU, and Ice Nine Kills.

Wicked Deception joins the growing portfolio of metal groups on the DSN label such as Omen, Mercury Bullet, World Beneath World, Creeper, and Beyond Perception.

"Wicked D is happy to be joining the DSN family" said Wicked Deception's founder, vocalist, and guitarist Lance Huguelet, who also disclosed the group is currently in the studio working on their next album "A New Kind of Horror" due in 2014 on DSN.

Joining Huguelet in Wicked's lineup is Bassist and Vocalist Brian Huguelet, Drummer Troy Samaras, and Dave Russell on adjoining guitar.

"Incite The Riot" is scheduled for a worldwide release via DSN Music Tuesday November 5th, and will be available via online and mobile stores such as Amazon.com, iTunes, Google Music, Spotify, Rhapsody, eMusic and hundreds more.




MusicDish*China Song Blast
Promote Your Music Single In China
| | | |
| --- | --- | --- |
| | News Headlines | |

Get your music news covered...
Have your press release written
by the pros at Mi2N
| | | |
| --- | --- | --- |
| | Articles | |