POWER HUNGRY?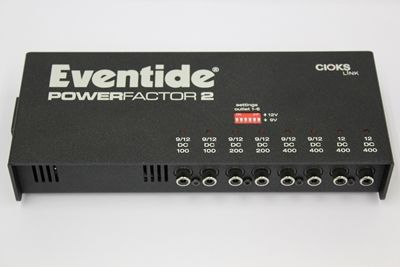 Website: http://www.eventide.com/
LITTLE FERRY, NEW JERSEY, October 9, 2013 — Today, Eventide announced the immediate availability of the PowerFactor 2 stompbox power solution co-developed with Cioks of Denmark. PowerFactor 2 builds on Cioks' 20+ years of power supply expertise and successful track record of performance and reliability. By popular demand, PowerFactor 2 will simultaneously power up to four Eventide Stompboxes plus up to four additional pedals. PowerFactor 2 is available where Eventide stompboxes are sold and at Eventide.com at a special introductory price of $229.

Features

8 outlets configured in 8 isolated sections with a total output of 1,600mA of current
Custom high quality European toroidal transformer
4 powerful DC sections with 400mA each, able to power four Eventide Factor pedals
2 x 200mA sections
2 x 100mA sections
Link expandability with optional adaptor to power additional Cioks link power supplies from a single IEC cord
Short circuit protection of all outlets
Advanced LED monitoring of each section
Whisper fan with automatic heat threshold activation
115V/230V mains voltage selector switch
Standard IEC power cord supplied
Durable steel enclosure with 2mm gauge top
5-year warranty
14 Flex cables included including four for Eventide stompboxes

Dimensions
8.5"/216mm long x 3.5"/89mm wide x 1.5"/38mm (without rubber feet) or 1.75" 44.5mm high (with rubber feet)

Weight
Power Factor 2 power supply weight 3.25 lbs./1.47 kg

Product page: http://eventide.com/AudioDivision/Products/Accessories/PowerFactor2.aspx

Purchase: http://www.eventidestore.com/powerfactor2.html

About Eventide
Eventide was founded in 1971 in New York City. Eventide is a leading developer and manufacturer of digital audio processing products for recording, broadcast, and live performance. Headquartered in Little Ferry, NJ, Eventide invented the H910, the first Harmonizer effects processor in 1975, and introduced the H3000 Ultra-Harmonizer effects processor in 1987. Visit Eventide online at eventide.com.

Eventide is a registered trademark of Eventide Inc.

©2013 Eventide Inc.



| | | |
| --- | --- | --- |
| | News Headlines | |

Get your music news covered...
Have your press release written
by the pros at Mi2N
| | | |
| --- | --- | --- |
| | Articles | |
Order an Mi2N Music PR package for an opportunity to submit a song for FREE to one of the hundreds of industry opportunities available through Music Xray