The FINAL Breakthrough Series Event Of The Year Benefiting St. Jude Children's Research Hospital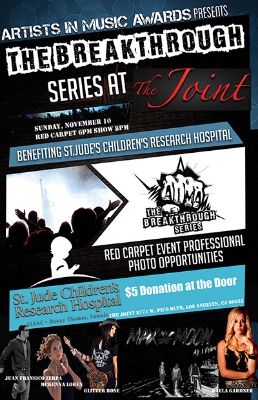 Website: http://www.aimusicawards.com
Artists In Music Awards hosts the FINAL "Breakthrough Series" St Jude Children's Research Hospital Charity and Red Carpet Event on Sunday, November 10 at The Joint, 8771 W Pico Blvd, Los Angeles.

Oct. 31, 2013 - LOS ANGELES, Calif -- The 3rd Annual Artists In Music Awards Announces St Jude Charity & Red Carpet Event Finale.

On Sunday, November 10, 2013, the Artists In Music Awards (AIMA) announces the official line up for the FINAL event of the Breakthrough Series to include 2-time AIMA award winner Glitter Rose and new comers to the program, Max and the Moon, Juan Francisco Zerpa, McKenna Loren, and Kaela Gardner. This diverse mix of music artists comes together to entertain, help raise awareness for St. Jude Children's Research Hospital, and compete for the title of Performer of the Year.

FURTHER DETAILS OF EVENT:

Where: The Joint, 8771 W Pico Blvd, Los Angeles, CA 90035
When: Sunday, November 10, 2013
6pm: Red Carpet Arrivals (Red Carpet Event: 6pm to 7:50pm (performers MUST attend for photographs and interviews. All Nominees are encouraged to attend as well)
Live performances: 8:00pm
NOTE: wrist bands are required to walk the red carpet

Schedule:
7:55pm - introductions
8pm to 8:05pm – McKenna Loren Music Video
8:05pm to 8:20pm - McKenna Loren
8:20 to 8:30pm - Glitter Rose videos
8:30pm to 8:50pm – Glitter Rose
8:50pm to 9pm - Max and the Moon music video
9pm to 9:20pm- Max and the Moon
9:20pm to 9:30pm (Best Music Videos by two random Nominees)
9:30pm to 9:50pm - Kaela Gardner
9:50pm to 10pm Juan Francisco Zerpa Music Video
10:00pm to 10:20pm – Juan Francisco Zerpa
10:20pm to 10:30pm – Closing

The Artists In Music Awards will be showing music videos between sets from the nights performers and videos from the 2014 Best Music Video category. You will not want to miss this incredible event.

About the Artists In Music Awards

Mikey Jayy, a music and media personality and Philanthropist, and Nic Creznic, Master of Ceremonies, Financial Investment Advisor, and Actor created the AIMA in October 2011. Jayy began the AIMA with the Alan Freed Award, which was given out annually for Lifetime Achievement. In 2012, the award was given to 22-year veteran and pioneer of the independent music community, Al Bowman of the Los Angeles Music Awards. In 2013, the Alan Freed Award was given to career Radio Disc Jockey and Entertainer, Brad Mercer. For the 2014 Lifetime Achievement Award, was given to career actress and Rock N' Roll Hall of Fame receipient Michelle Phillips of The Mamas and the Papas. The honor was award to Phillips by Mikey Jayy at the 'American Girl' video premiere and Susan G Komen Charity hosted by Glitter Rose on October 29, 2013 at the Gibson Showroom in Beverly Hills.

In this awards program, artists submit their body of work in request for a nomination in one of 30 categories. Final Nominees are then selected through a combination of fan votes and by a panel of Professionals from the radio and music community.

The Artists In Music Awards Ceremony will take place on February 7, 2014 in Hollywood. The nominee list and performers at the Awards Ceremony includes a mixture of music genres from the music community. The official preliminary list of nominees can be seen at www.aimusicawards.com. Voting continues until Midnight on November 1st.

For more information or to request media credentials, interview or vendor opportunities please email info@aimusicawards.com. Ticket prices are $5 for Breakthrough Series Events and must be purchased at the door or purchase in advance through Eventbrite at:

http://www.eventbrite.com/org/4144392081

The Artists In Music Awards is a sponsored by Arts Seen & Heard PR, MusicSUBMIT, KGUP 106.5FM, 101Distribution, Independent Music Promotions, Spirit Airlines, & Indie Music Bus.




| | | |
| --- | --- | --- |
| | News Headlines | |

Get your music news covered...
Have your press release written
by the pros at Mi2N
| | | |
| --- | --- | --- |
| | Articles | |
Order an Mi2N Music PR package for an opportunity to submit a song for FREE to one of the hundreds of industry opportunities available through Music Xray