DSN Music Blues Fiesta Rings In 2014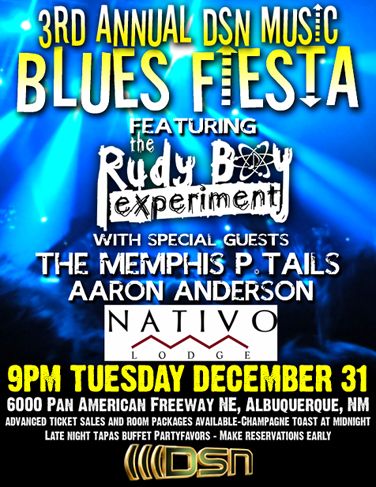 Website: http://www.dsnmusic.com
Albuquerque, NM -- The Southwest will ring in 2014 with a champagne toast at the 3rd Annual DSN Music Blues Fiesta, featuring The Rudy Boy Experiment on New Year's Eve. The Rock and Blues music event will be held at the popular Nativo Lodge in the heart of Albuquerque New Mexico, and will also feature artists such as The Memphis P.Tails and Aaron Anderson.

The show will also kickoff a promotional blitz for The Rudy Boy Experiment, in anticipation of the release of their fourth studio album "The Way It Is Now" on Tuesday January 21st. Several tracks from The Way It Is Now were produced by multi-platinum, Grammy Award-winning producer Pete Anderson, who has worked with veteran artists such as Dwight Yoakam, Roy Orbison, Tanya Tucker, Jackson Browne and Buck Owens.

The Rudy Boy Experiment features "Rudy Boy" Jaramillo on guitars and vocals, Kevin Kraybill on bass, and Ritardo Sanchez on drums. Tony Rambo co-produced with Anderson at The Nest in Glendale California, with post production mastered at Eagle Rock Studios in Albuquerque, NM.

"This record has taken me places emotionally and physically and is some of my best work" stated Jaramillo. "With some old songs redone and new ones that reflect my life today it truly is The Way It Is Now. The title track is a reflection of my life now and was my fathers favorite song. It was great to get to work with such professionals and to get treated like family. Then losing my father really started to show me what fatherhood is about. I am dedicating this album to my father and wrote a song for him."

"The Way It Is Now" is scheduled for a worldwide release via DSN Music and will be available via online and mobile stores such as Amazon.com, iTunes, Google Music, Spotify, Rhapsody, eMusic and hundreds more.

The 3rd Annual DSN Music Blues Fiesta will be held at 9pm Tuesday December 31st, at the Nativo Lodge 6000 Pan American Freeway NE, in Albuquerque. For more details on tickets and special room packages call the Nativo Lodge at 505-798-4300.



| | | |
| --- | --- | --- |
| | News Headlines | |

Get your music news covered...
Have your press release written
by the pros at Mi2N
| | | |
| --- | --- | --- |
| | Articles | |
Order an Mi2N Music PR package for an opportunity to submit a song for FREE to one of the hundreds of industry opportunities available through Music Xray