Daniela Kuri Releases Sizzling New Album, "Sway"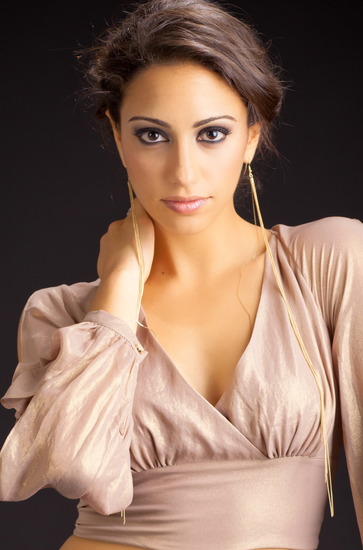 Email: Nicole@LaFamos.com
Website: http://www.facebook.com/DanielaKuriMusic
Los Angeles, CA – Ringing in the New Year her own way, Latin songstress Daniela Kuri is releasing her first full-length album, Sway. In December, Music Connection Magazine dubbed Daniela one of the Hot 100 Unsigned Artists of 2013 and her debut album is a testament to her talent. The Mexican born vocalist turns up the heat on some classic hits and adds her gift of the Spanish language to these prominent music classics. Sway is now available on iTunes and Amazon.

In December, Daniela released her first single, an English and Spanish version of "Santa Baby," which received overwhelming response from her supportive fan base. For her solo unveiling, Daniela enlisted the help from the renowned producer Phil Swann, whose numerous credits include Blake Shelton, Lee Ann Womack amongst many others. Swann helped Daniela to highlight her Latin vocal expertise, which makes her stand apart from the cookie-cutter artists. Kicking off the album, the title track is heightened through Daniela's eloquent and enticing vocals that update the timeless Dean Martin sensation. Offering her compliments to the King of Rock and Roll, Daniela's version of the Elvis Presley hit "Can't Help Falling in Love", is a pinnacle performance with her powerhouse and mesmerizing vocals on the forefront. The tender and romantic disposition of her voice translates through the passionate lyrics of the track, transporting you to the dreamlike and starry-eyed setting she creates. Paying homage to her Mexican roots, Daniela has infused her Spanish language to several traditional tracks. Noting the album as her biggest achievement to date, Daniela says, "the experience in the studio was magical and I learned so much. I am so excited to finally be able to share it with the rest of the world."

The multi-cultural fiery vocalist, Daniela Kuri was born and raised in Mexico City and is from Lebanese decent. Daniela's grandfather was a big influence on her and laid the foundation for her infatuation with music of the late 50's to early 70's and boleros. At age two, Daniela enrolled in classical ballet training and unveiled her innate passion for the performing arts. As a child, she learned various instruments, playing piano for several years and was part of a percussions orchestra that traveled to Canada to perform. Leaving behind her life and familiarity once again, Daniela moved to Los Angeles to continue to develop musically. Daniela says "I have an urge to create, share, and express my feelings about life and found singing/performing the best way to do so." Aside from her musical accomplishments, Daniela is also fluent in four languages and teaches dance lessons in Hollywood.

Keep up with this multi-faceted beauty at facebook.com/DanielaKuriMusic and download her new album, Sway on iTunes.




MusicDish*China Song Blast
Promote Your Music Single In China
| | | |
| --- | --- | --- |
| | News Headlines | |

Get your music news covered...
Have your press release written
by the pros at Mi2N
| | | |
| --- | --- | --- |
| | Articles | |