The Imps: Musicpage's Featured Artist Of The Day

Website: http://www.musicpage.com/theimps

February 21st, 2014

FOR IMMEADIATE RELEASE

The Imps is an all girl, teenage band based out of Metro Detroit who are already winners of two Battle of the Bands in early 2014. Formed initially by Katelynn and Liah in 2011, the current four girl lineup (including Claire and Hannah) enjoy playing a mix of their own material as well as classic and modern rock covers.

These four girls put the "rock" in rock-n-roll and aren't afraid to get loud! Their performances are filled with crazy fun and there is no shame in their game. Their desire for the heavy beat shows through their inspiration by such bands as Primus, Foo Fighters, Led Zeppelin, Alice in Chains and many others.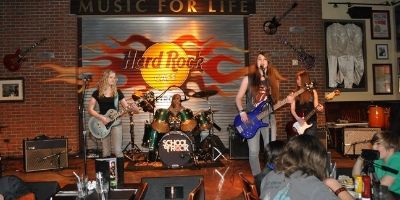 These four girls are constantly playing in the Michigan area and will rock your socks off.

For more information and to check out their music and tour dates, visit: https://www.musicpage.com/theimps





Visit www.musicpage.com

To find music industry performance and licensing opportunities, visit the Music Ops Board at www.musicpage.com/mob




MusicDish*China Song Blast
Promote Your Music Single In China
| | | |
| --- | --- | --- |
| | News Headlines | |

Get your music news covered...
Have your press release written
by the pros at Mi2N
| | | |
| --- | --- | --- |
| | Articles | |