Dark Matter Trio: Musicpage's Featured Artist Of The Day

Website: http://www.yourdomain.comhttp://www.musicpage.com/thedarkmattertrio

May 5th, 2014

FOR IMMEDIATE RELEASE

Like the theoretical substance from which this band takes its name, the music of the Dark Matter Trio is best observed by its compelling effect on the listener. This is music made by music lovers for music lovers; sometimes heavy and intense, other times quiet and subdued, sometimes light and upbeat but maintaining a symbiotic balance between the provocative and approachable. Each of their songs is a story without the obvious redundancy of words.

The Dark Matter Trio was formed through the cosmic catalyst of Craig's List and features the multifaceted talents of Jerry McGowan on 6- and 7-string guitars and keys, Drew Hall on 4- and 5-string basses, and Shawn Kepner on drums.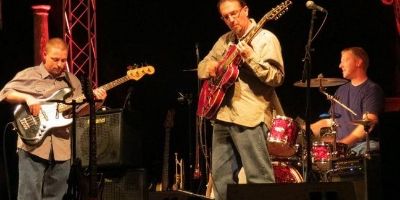 For more information and to check out her music, visit: https://www.musicpage.com/thedarkmattertrio





Visit www.musicpage.com

To find music industry performance and licensing opportunities, visit the Music Ops Board at www.musicpage.com/mob





MusicDish*China Song Blast
Promote Your Music Single In China
| | | |
| --- | --- | --- |
| | News Headlines | |

Get your music news covered...
Have your press release written
by the pros at Mi2N
| | | |
| --- | --- | --- |
| | Articles | |