Anaheim's Local Band, Ostrich Run, Look To Inspire Through Music And Philanthropy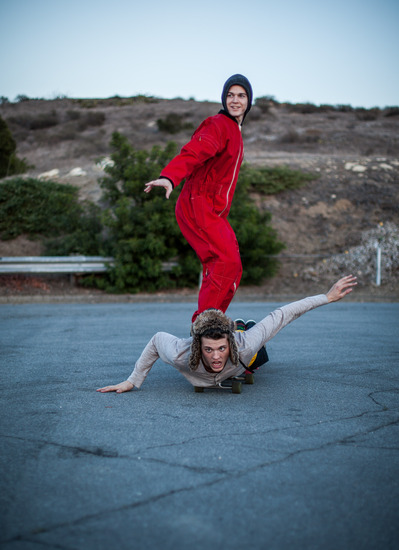 Email: Nicole@LaFamos.com
Website: http://www.ostrichrun.com
Music: http://s3.amazonaws.com/lafamos-dpk/system/mp3s/6663/original/eve[...]
Los Angeles, CA - Alternative indie rockers shake up the OC music scene with new single "Everyone Pretends", which serves as the prelude for their August EP release. Based in Anaheim, California, best friends Joel Rowland and Mark Pascale have collaborated to form the innovative band, Ostrich Run. "Everyone Pretends" is the debut release from the ambitious duo and is now available for purchase on iTunes, alongside their new music video now on YouTube.

Opening the song with a shadowy string introduction, lead singer Joel Rowland swings the track into an all-encompassing buoyant track. This memorable jam leaves you lost in a blissful trance with its catchy beat, accentuated by his impeccable vocal range and production quality. From swelling drums to a catchy hook that floods, "this time never mind, better off pretending that it's just fine, and I know, let it go, we are hanging from a thin line", the track embodies it all. Enlisting the support of a friend, Jake Ryan Dickens created their unique album artwork, as well as the artwork featured in their latest music video, now on YouTube. The video depicts the process of an artist creating the bands album artwork.

Friends Joel Rowland and Mark Pascale found common ground through their passion of music and philanthropy and have united their ideas to create a change in the world, beyond their music. In conjunction with their musical endeavors, Ostrich Run has established their own organization, Ostrich Farm, which serves as a foundation for various local charities. Keeping true to their ideals of DIY, Ostrich Farm was established to help give other dreamers and their fans a chance to help their community through The Ostrich Farm's events. Ostrich Run serves as the messenger for the organization. Their hope is to inspire other artists to join the farm and spread its mission. The bigger the farm grows, the more that can be done. Keeping music and philanthropy on the forefront, the Anaheim duo first bonded over their numerous musical influences from as far back as Louis Armstrong, to contemporary artists such as Blink-182, Arcade Fire, and Foster the People. The band has graced the stages of numerous venues including The House of Blues, The Glass House, The Mint LA and more. "Everyone Pretends" marks the first release for the emerging band.

Displaying their charismatic personas is all part of the gig for the members of Ostrich Run. They spread their feathers and show the world the sound of their hearts through their impassioned melodies and work with charities. This young duo is determined to make a difference in the world through music and philanthropy and will let nothing stop them while on the journey. Be sure to check out their music video "Everyone Pretends" and purchase the track on iTunes. It will have to hold you over for the release of their debut EP, coming August 2014, follow them on at Facebook.com/OstrichRun.




MusicDish*China Song Blast
Promote Your Music Single In China
| | | |
| --- | --- | --- |
| | News Headlines | |

Get your music news covered...
Have your press release written
by the pros at Mi2N
| | | |
| --- | --- | --- |
| | Articles | |