Cambridge Nights - Single (Remastered)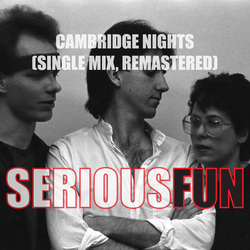 Email: dougosborne@dougosbornemusic.com
Website: http://www.dougosbornemusic.com/
Music: http://www.dougosborne.net/audio/Cambridge%20Nights%20-%20Single%[...]
Doug Osborne Music is releasing Serious Fun - Cambridge Nights - Single (Remastered), the first new material from Serious Fun since the release of the Boston Rock & Roll Anthology, Vol 4 on VAR International.

Tuesday, August 5, 2014 is the release date for the download and streaming release of the first single.

Cambridge Nights - Single (Remastered) will be available on iTunes, Amazon, Spotify, and all global download and streaming services
Great for Modern Rock, Classic Rock and Alternative radio, podcast and other formats and media
One Sheet attached for Press Quotes and more info
Please contact me for an advance preview download, stream, or CD (coming soon)

Following up on the success of Pasted on Pout and Arrest My Heart from that LP, the band is releasing Cambridge Nights as a digital only single. It will be followed by two more remastered digital single releases, an EP (CD, download and streaming) of previously unreleased mixes of seven high-energy songs, and a new original full-length album from Doug Osborne.





MusicDish*China Song Blast
Promote Your Music Single In China
| | | |
| --- | --- | --- |
| | News Headlines | |

Get your music news covered...
Have your press release written
by the pros at Mi2N
| | | |
| --- | --- | --- |
| | Articles | |