Breakout OC Band, Ostrich Run, Releases New EP "Acoustified"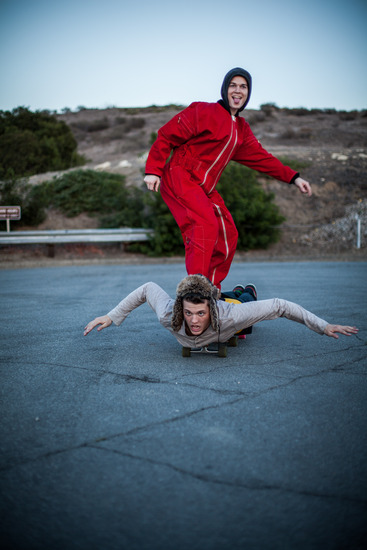 Email: Nicole@LaFamos.com
Website: http://www.ostrichrun.com/
Los Angeles, CA - After months tirelessly spent in the studio, Ostrich Run is releasing their first EP Acoustified, featuring their previously released single "Everyone Pretends" alongside breakout tracks "Steel" and "Boundaries". The Anaheim, California based duo comprised of best friends Joel Rowland and Mark Pascale, have collaborated to make this EP a representation of their innovative alternative, indie-rock sound. From hard-hitting drums, violin solos and elements of electro-pop, the four-song EP contains the true sound of Ostrich Run. Acoustified is now available on iTunes.

Acoustified showcases the impressive vocal range of lead singer Joel with the many tones and styles Ostrich Run is able to cover. Joel and Mark collaborate to create powerful lyrics and work to present the most dynamic rhythms, through using a variety of instruments on their tracks. The EP features a mix of guitar riffs, drums, violin and more. Cutting from poignant lyrics, each track on the EP has a deep emotional layer to it. "Boundaries" emotionally stabs you with raw elements about how life can be dark and hindering if you let it, but you can't let those aspects get the best of you and it's important to follow your dreams and conquer them. The song ranges from traditional rolling drums, reversing into slower melodies and then rebounding once again. Contrasting the powerful rock sound is the track "Steel", which exudes the indie-pop rock vibe, reminiscent of Royal Teeth and The Mowglis, about moving on from someone in your past but also having them look back on the relationship as a positive experience.

Friends first, Joel Rowland and Mark Pascale found common ground through their passion for both music and charity. Aiming to make a change in the world beyond their music, the band started their own organization, Ostrich Farm. Ostrich Farm serves as a foundation for various local charities and strives to be a reminder that anyone can help and make a difference in their community. Ultimately, Ostrich Farm hopes to inspire other artists to join, in order to spread its mission and prosper.

What helped Ostrich Run grow as a group was their shared musical influences such as Blink-182, Foster the People and Louis Armstrong. Joel and Mark refer to their music as "the vessel that connects our abstract creativity with the real world." They have graced the stages of many popular venues including the House of Blues, The Glass House and The Mint LA. The group thrives off of the energy of live performances and enjoys showing the crowd their boisterous personalities. With the passion and talent Ostrich Run displays, it can be assumed that this EP is just the very beginning of what the band has in store.

Emerging band, Ostrich Run is making their mark in the music world with the release of this new EP. Be sure to check out Acoustified, available on iTunes and keep up with all things Ostrich Run on their website www.OstrichRun.com.




MusicDish*China Song Blast
Promote Your Music Single In China
| | | |
| --- | --- | --- |
| | News Headlines | |

Get your music news covered...
Have your press release written
by the pros at Mi2N
| | | |
| --- | --- | --- |
| | Articles | |