WeareTheBigBang Release Indelible New Single, "Smoke"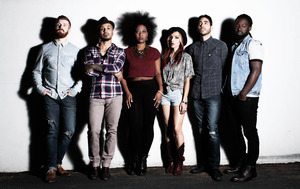 Website: http://www.WeAreTheBigBang.com
Music: http://s3.amazonaws.com/lafamos-dpk/system/mp3s/8351/original/smo[...]
Los Angeles, CA – Soul infused indie-pop band, weareTheBigBang, have released a sensational new single, "Smoke" sending you straight to the dance floor to get down. weareTheBigBang's modern approach to classic rock/soul has quickly made them one of the hottest new bands in the Los Angeles scene. "Smoke" is the band's first single and title track off their upcoming EP, to be released in June. The single is currently available for FREE download on the band's website.

Produced by Darryl Swann (Macy Gray, Black Eyed Peas, Mos Def), "Smoke" is one of the band's most danceable and captivating songs yet. The vocal pairing of Elaine Faye and Cheyenne Jolene create a sound reminiscent of artists like Amy Winehouse and Sharon Jones. Blending a patchwork of influences from indie rock, funk and eighties pop, "Smoke" displays the groups genre-bending abilities. The song opens with Kyle Rector's pounding drum beat that carries the entire song, while Luis Munoz, known for shredding maniacally live, plays guitar licks that brings the song to life. Combined with Oliver Lee's funky keyboard work and Enrique Hinojosa's solid bass playing, weareTheBigBang creates a sonic landscape of indie pop that maintains a fresh and unique sound. When Faye and Jolene sing, "you can't see it, I can't believe it, we're burning in flames, here we go!" it becomes clear that the rising smoke is the red flag at the end of a relationship. "Smoke" may be a kiss-off, yet few break-up jams groove as hard as this one. "We've truly invested our heart and soul into this project," says Faye. "We're really excited to finally be able to share it with all of our family, friends, and fans." The new single is now available for download on the band's website.

weareTheBigBang formed while the six band members were finishing their last year at Musicians Institute in Hollywood. Taking the scene by storm, the band has made quite a name for themselves, already performing at Make Music Pasadena Fest, KIIS FM's Wango Tango Music Festival, major festivals like Bonnaroo, Coachella, SXSW and over 25 colleges nationwide. The band has opened for acts such as Allen Stone, Lianne La Havas, Nikka Costa, Lights, Vintage Trouble, The Arkells, Honey Honey and The Daylights. They have also been featured on VH1's Mob Wives, Single Ladies, Love and Hip Hop, MTV's Teen Wolf, and Snooki and Jwoww, TNT's Boston's Finest, Lifetime's Dance Moms and Bring It, the CW morning news, and many more.

"Smoke" brings an addictive taste of indie-soul, dance music that we can anticipate more of on their upcoming EP! Be sure to download the single and keep up with weareTheBigBang at: www.WeAreTheBigBang.com!




MusicDish*China Song Blast
Promote Your Music Single In China
| | | |
| --- | --- | --- |
| | News Headlines | |

Get your music news covered...
Have your press release written
by the pros at Mi2N
| | | |
| --- | --- | --- |
| | Articles | |