Worldwide Groove Corporation Collaborate With EDM Producer Portarius For Upcoming Release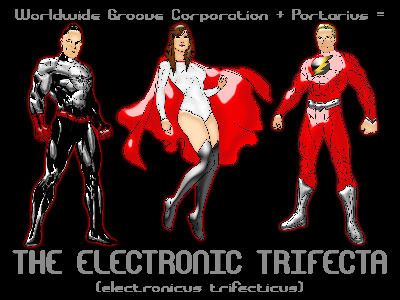 Website: http://www.worldwidegroovecorp.com/
Music: http://www.mediafire.com/listen/17b75fe5xpocz5l/Make_Me_Free_[Por[...]
In their final installment of their Year of the Groove, where they have put out one new music release a month for a year, Worldwide Groove Corporation are incorporating the talents of up-and-coming EDM producer Portarius into the mix. Their June release which will feature 5 entirely different versions of their song "Make Me Free" will include one melodic dubstep remix of the track produced solely by Portarius.

"This next release is unlike any of our previous releases in that we will put out five different versions of the same song at once, four of which we produced ourselves and one produced by Portarius," says Kurt Goebel, producer and programmer for Worldwide Groove Corporation. The four versions of the song produced by Worldwide Groove Corporation will mainly stay within their established sound as electronic music producers, ranging from downtempo chillout to deep house to electro, and the fourth incarnation departs from the electronica world in the form of a piano ballad with solo cello. "This project shows the scope of what we do and has been in the works for a long time. We are so glad to be able to end our Year of the Groove with this collection of tracks," says Goebel.

Worldwide Groove Corporation first became acquainted with Portarius while he was a commercial music major at Belmont University, and their electronic music connection became apparent very quickly. "Portarius played me the remix he had done of Kimbra's song "Settle Down", which had won a remix competition, and from the quality of his work, I could tell that he was someone we would be glad to collaborate with on our tracks," says Ellen Tift, songwriter and vocalist for WGC. "We aren't concerned with the fact that he is currently relatively unknown, we made this decision solely on his amazing talent, we absolutely love what he has done with this song, and we hope he gets some good exposure from this release."

"Make Me Free" is the 12th consecutive monthly music release by WGC, and the first of the series to have utilized the production skills of anyone else. "Worldwide Groove Corporation produces a sound unlike any artist I have ever worked with, and it was an invigorating experience to be able to produce my own interpretation of "Make Me Free" for them," says Portarius. "I was so thankful and excited for the chance to bring this song out of one sonic world and into another. WGC's unique sound is perfect for this kind of remix, and I'm so thankful to have been able to work with them on this, and for the chance to share this track with the world." Portarius is currently working on various electronic music projects while also working full time in the music industry.

Worldwide Groove Corporation have made instrumental and vocal stems of their previous electronic music releases available to remixers on various digital music outlets and through their own website. To learn more about this or any other Worldwide Groove Corporation releases, go to http://www.worldwidegroovecorp.com and join the mailing list or search the website.

ABOUT WGC: Worldwide Groove Corporation are Kurt Goebel and Ellen Tift, specializing in electronic pop and downtempo chillout music production, string arranging, and remixes. Their music has been featured on national television shows, in independent films, and used in major brand advertising campaigns in the U.S. and Europe. Both members of WGC have a Master of Music degree in Media Writing and Production from the University of Miami in Coral Gables, FL. See their full bios on their website.







MusicDish*China Song Blast
Promote Your Music Single In China
| | | |
| --- | --- | --- |
| | News Headlines | |

Get your music news covered...
Have your press release written
by the pros at Mi2N
| | | |
| --- | --- | --- |
| | Articles | |