Rapper Star Money Releases Hit Singles "Band Dem Bandz" And "Swag Without Trying"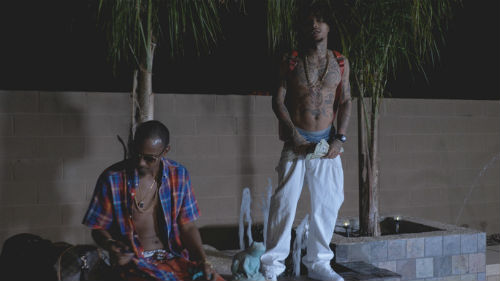 LOS ANGELES, CA – The phrase "a star was born" is a perfect description of rapper Star Money. The stage name stems from a time where the artist was navigating the ups and downs of life. For the majority of his adolescence, he knew music was something he wanted to pursue. Since the young age of nine years old, Star Money has never stopped rapping, after becoming inspired by his favorite artists Lil Wayne and Master P. In his terms, the rapper committed to taking his career all the way, which is also how he formed his own collective, Star Money Gang, or SMG. 


Star Money is no stranger to reaching for the highest levels of success. Through founding SMG, he values the importance in growing himself as an artist. "We're all stars," said the artist. "We're all going to acknowledge ourselves as stars. There's a whole blueprint behind that." Not only is Star Money a man about his music, he's also a man about his business. A true entrepreneur, the rapper has stayed busy in forming his own non-profit, also named after SMG, but geared toward the youth. "I'm strategizing on a global level. I will emphasize and incorporate with my music- I've already started making shirts and hoodies to further market myself as an entrepreneur," said the artist. At this point in time, music remains at the forefront of Star Money's mind. 


The rapper is fresh off the release of his latest single, "Band Dem Bandz", which was a collaborative effort with Calicoe G. When asked about the inspiration behind the song, the rapper tells a story from his perspective. "The single talks about where we're at in life, and where we come from," said Star Money. "The moral of the story is the American way. Prosper, and get that money. Everything we do is for the money, and of course music is our passion. " The single has performed exceptionally well, as it is available on all digital music streaming platforms. The artist has been in the process of creating visuals for the single, and also working on raking in more radio play. As mentioned prior, Star Money has dreams of taking his career global, and he fully intends to do that with his campaign. 


An artist of true versatility, Star Money has also released a solo single titled "Swag Without Trying". Available on Soundcloud, the single has a bouncy beat with a chorus that everyone can relate to. If he wasn't busy enough, the artist is also diligently working on his next mixtape, "Just For Play 2", which is a follow-up to his previous work. "My album is gonna be all original beats, and I'm going to focus on keeping it like this in the near future," said Star Money. This month has kept the rapper occupied, as he has an upcoming show in Phoenix on the 14th at the Monarch Theater with Master Lynch. However, the rapper doesn't mind the tireless hours and hard work at play. "I'm striving to prosper and earn the fruits on my labor. You know, I'm waiting on God to drop that big blessing on me," said the rapper. 


Fans can also keep watch for his upcoming label, Byrd Gang Records, which is also in the works. The independent label also holds meaning behind its name. "Bird came from my late brother. That was his name, so I'm dedicating the label to him," said Star Money. He also references another positive influence in his life, which is Reggie Loc. These individuals, along with his eight month-old son, represent the biggest physical inspiration in his life. Star Money is such a positive artist, and will definitely go far in whatever he does in his career. 


To stay up to date with Star Money, follow him on his social media sites below:


Twitter: https://twitter.com/starmoneyshine
Instagram: https://www.instagram.com/starmoneyshine/
Facebook: https://www.facebook.com/drakey.hall
Soundcloud: https://soundcloud.com/drakey-hall/
Youtube: https://youtu.be/kkwhTaWHRH8