David Longoria, Laura Angelini To Perform For Charity Event Benefitting Peruvian Children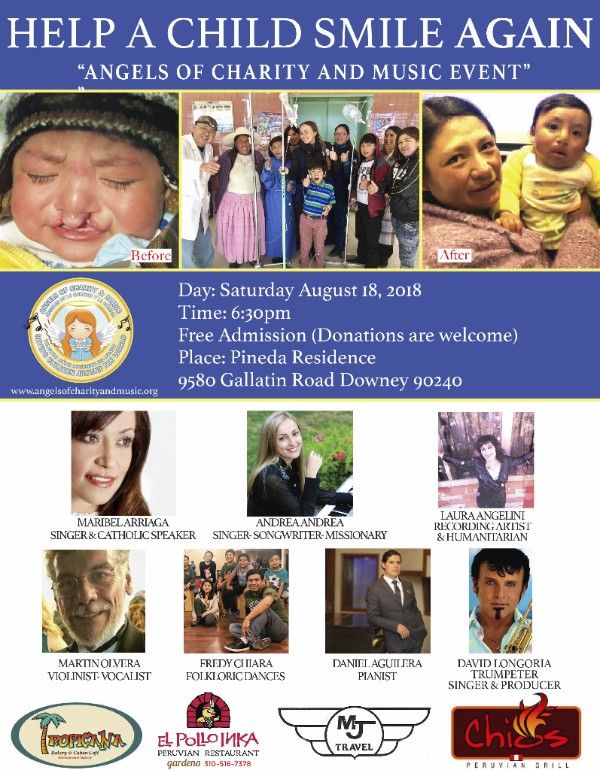 Website: http://www.lauraangelini.com
Studio City, California, A half-dozen local and internationally known recording artists and musicians will be on hand to provide entertainment at the 5th annual Angels of Charity and Music (ACM) fundraising event "Help A Child Smile Again" at 6:30 p.m. Saturday (Aug. 18) at the home of Dr. Raymundo and Vicky Pineda, 9580 Gallatin Road in Downey.

Slated to perform are: internationally renowned trumpetist and singer, David Longoria; recording artist and humanitarian, Laura Angelini; Disney singer, songwriter, missionary and founder of Angels of Charity and Music, Andrea Andrea; violinist and vocalist, Martin Olvera; singer and Catholic speaker, Maribel Arriaga; pianist, Daniel Aguilera; and, folkloric dances led by choreographer, Freddy Chiara.

The free event also includes food and an opportunity to donate to an upcoming Angels of Charity and Music medical mission to Puno, Peru.

Angels of Charity and Music (ACM) is a non-profit organization made up of dedicated musicians, missionaries, doctors, nurses and other volunteers. It was founded in 2010 by Andrea Andrea, who sings Spanish children's music for Disney and on her own recordings.

The organization provides emotional, financial and medical help to children and adults in the United States, Mexico and Peru. During its yearly mission trips to Peru, surgeries are performed on more than 100 children with cleft palate; ear microtia; nose, throat, hand and feet deformities and gastrointestinal maladies. Dentistry also is provided for up to 200 additional children in need.

The trips include a team of about 50 volunteers who pay their own transportation and lodgings to be part of the mission. None of the children or families pay for the surgeries or medical procedures, as the medical professionals - led by U.S. Surgeon and Ear Nose and Throat Specialist Dr. Terry Shibuya, of Anaheim - volunteer their services and ACM foots the bill for necessary medical supplies.

Andrea was born in Peru and now lives in Los Angeles. She said ACM activities in the United States provide emotional and spiritual help to low-income families and children of broken homes. In Mexico, the organization helps orphans and children living on the streets to be placed in orphanages and shelters and provides financial and spiritual support.

This year, the Peru mission trip is scheduled from Aug. 26 to Sept. 1.

Los Angeles singer, Laura Angelini has been involved in Angels of Charity and Music events for the past five years.

"I've seen all the beautiful gifts Angels of Charity and Music gives to the children - and I'm excited to be part of this year's fundraising gala," Angelini said, adding that this will be her first time to volunteer as a member of the Peru mission trip team at the end of the month.

She doesn't plan to use her vocal talents much on the trip; instead, she will be signing children up for surgeries and dental procedures and assisting family members in whatever way she can, she said: "If we can change the life of a child - or 300 children - that's a magnificent miracle; we can make a big difference."

Although Saturday's event is free, donations of any amount are welcome. A donation of $250 finances a child's surgery. Without ACM's help, many of those surgical procedures could cost upwards of $40,000 and would be otherwise unattainable for the many children in need, Andrea said.

For more information, email: info@angelsofcharityandmusic.org; visit: www.angelsofcharityandmusic.org or call: 818-835-5226.






MusicDish*China Song Blast
Promote Your Music Single In China
| | | |
| --- | --- | --- |
| | News Headlines | |

Get your music news covered...
Have your press release written
by the pros at Mi2N
| | | |
| --- | --- | --- |
| | Articles | |