"ROADIE: MY DOCUMENTARY" STAGE DIVES INTO THE CIRCUS LIFE OF TOURING PROFESSIONALS BEHIND THE RUCKUS OF SOME OF THE MOST EPIC ACTS IN MUSIC HISTORY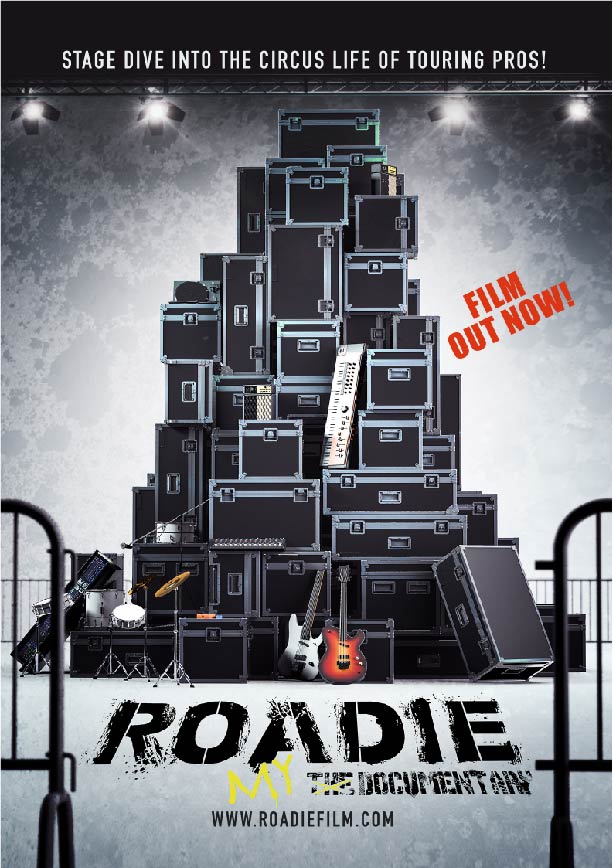 Website: http://www.roadiemydocumentary.com/

Unapologetically indie, "Roadie: My Documentary" spans the 20-year career of roadie turned filmmaker, TJ Hoffmann. Along-side his co-director and co-writer, Andy Strohl, TJ takes you behind-the-scenes and on-the-run with rock 'n' roll, R&B and pop road crews for some of the most epic acts in music history to better understand the unique perspectives of the profession and its enormous impact on the evolution of music around the world and back again.

Jump on the bus and get a backstage pass to life on the road with crew members that keep the following acts in the spotlight: Allman Brothers, Agnostic Front, India Arie, Black Keys, Bon Jovi, David Bowie, Alice Cooper, Counting Crows, Peter Frampton, Grateful Dead, Guns N' Roses, GWAR, Billy Idol, Ignite, Elton John, KISS, Demi Lovato, Madonna, Metallica, M.O.D, Motley Crue, Offspring, Skid Row, System of a Down, Ramones, Rob Thomas and The Who.

"I wanted to go on the road for adventure, to be part of something larger than myself. Something amazing. Something no one could do alone. And I did," says TJ. "I was part of the touring industry during a pivotal time in music. Me. A part of it. A tiny little speck, but a part of it nonetheless."

No matter how they're defined, either as a hard-core roadie, instrument tech, or jack of all things backstage, their presence and impact is undeniable, earning the utmost respect from many of the top performers they've helped to launch and support along the way.

"Techs not only can do what we do, but they can fix a broken amp in 10 seconds or less," says Ron 'Bumblefoot' Thal, former guitarist for Guns N' Roses. "They all have skills that we don't, plus they're all musicians as well. We couldn't do what they do, but they could do what we do."

Filmed in a handful of countries over the course of ten years, "Roadie" began as a quest to find out what was the passion, motive or moment that made someone want to become a roadie. But over time, another narrative is discovered. TJ, the man behind the camera, begins to see himself more clearly through the lens as he's interviewing others and is forced to confront his own inner demons from decades of life on the road.

Music and history fans ready for a taste of roadie life should go to www.ROADIEFILM.com. The site showcases the movie trailer and includes a link to purchase on-demand access to the full-length film. The film is being offered exclusively on the Guiding Star Global digital content platform worldwide. Through February 29 the film is specially priced at $12.99 and includes roadie bonus stories. After purchase, the film can be viewed online using a computer or SmartTV. Or, viewers can access the film on-the-go using the free Guiding Star mobile app for both Android and iPhone devices. It's important to note based on the subject matter, the film does contain adult language and themes. Viewer discretion is advised.


About TJ Hoffmann

TJ's story contributing to the film begins in the late 1980's as a roadie for several New Jersey club bands. After a brief stint at New Jersey's legendary Trax East Recording studio, he spent most of the 1990's and 2000's crisscrossing the planet with bands like M.O.D, Agnostic Front, Ignite and many more. One of his fondest memories during this period was pulling triple duty as tour manager, drum tech and guitar tech for Skid Row, the opening act for the legendary KISS Farewell Tour, the last outing with the original members of the band.

After more than 20 years on the road, when the time finally came to slow down, TJ wisely took significant time to reflect on his adventures and the opportunity to tell the stories. As a blue-collar kid from New Jersey he was honored to have traveled with and shared the stage experience with some of the biggest bands in the world and the amazing people behind-the-scenes who made the shows happen. There wasn't a shortage of stories to share, but he knew some could never be told. Having all access trust backstage meant some stories would have to be left backstage and fade into history forever. However, for those that could be shared, a traditional book just didn't seem enough. Fortunately, TJ had the vision to compile an enormous amount of video footage from his life on the road. So, with a truckload of video to work with he thought why not a documentary film about roadies?

Using his video archive as a foundation, he started his quest to capture additional footage of friends in the business. He talked directly to fellow roadies he got to know and respect over the years. To get real and dig deep into the business and lifestyle, he helped his peers open-up to the camera and get comfortable sharing their stories and unique perspectives on the profession, music, touring and the ins and outs of the lifestyle they shared. TJ knows the business. He knows the life. He worked it and lived it hard. As a result of the special bond he shared with the men and women interviewed, he was able to get unprecedented commentary. "Roadie: My Documentary" was born.


About Guiding Star Global

Guiding Star Global is a creativity, marketing and technology company that believes in the power of independent artists and their storytelling craft to connect and unite the world for a better tomorrow. Its proprietary global digital content creation, management, marketing, sales and delivery platform provides its clients with revolutionary, industry-changing capabilities, including custom-tailored creator-to-consumer distribution options. To discover more about Guiding Star's innovative technologies and services, please visit www.GuidingStarGlobal.com.




Mi2N Music PR

Bruce Cockburn Announces 50th Anniversary Shows

Hit Songs Deconstructed Releases Its 2019 Year-end Hit Song Trend Report, The State Of The Hot 100 Top 10

Music Documentary Premiere 'United Nation: Three Decades Of Drum & Bass' Feat. Sigma, DJ Fresh, Andy C, Fabio & Grooverider

Literate Rock, Evocative Of Elvis Costello Meets Warren Zevon, As Singer-Songwriter Noam Weinstein Delivers His Latest Vividly Drawn Album, '42 1/2'

HUDSON VALLEY PLANS 'WAY TOO HOT' WINGS FESTIVAL

Stiff Little Fingers

Micayla De Ette, Star Of The Upcoming Film Hold On, Releases Her New Single And Music Video "Write A Song", Featuring Flavor Flav
| | | |
| --- | --- | --- |
| | News Headlines | |

Get your music news covered...
Have your press release written
by the pros at Mi2N
| | | |
| --- | --- | --- |
| | Articles | |